The GammaPro is a fully AUTOMATIC Leak Detector which is synchronized with a GammaTower (O2 analyser & patented perforating device manufactured by Astaara), and dedicated to Industries using Modified Atmosphere Packaging (MAP) to package food products. It has been specially designed for sample testing on assembly lines  in Factories handling large production volumes, and that have to follow Food Safety Management Systems according to ISO 22000 & HACCP.
The GammaPro enables food manufacturer to measure and check the O2 content of packed food just after the gas recipe has been injected in the packaging, and also to measure any leak of the flexible packaging.
To test products, divert samples from the assembly line to an inspection line where the GammaPro has been installed. The O2 analysis is performed first of all, immediately followed by the leak test, both without any human intervention whatsoever (it is a destructive test).
Full digital results are immediately available (the GammaPro will measure leaks > 5 μm), visible on the screen, and can be instantly transferred to the Manufacturing Process Control System or to your computer via a USB connection. Analyse the results on a pivot table, visualise the results on a Gauss chart on a separate optional monitor, set limits or stop production immediately should the packaging not conform to the pre-set parameters.
Automatic calibration check:
A calibrated leak is built-in the leak testing unit of the GammaPro. The value of this calibrated leak is stored in the instrument's memory (the leak is ex-pressed in cc/mn at a given pressure in mB). The operator can compare the GammaPro performance with the calibrated leak value at any time, and determine if recalibration is required.
If the flow rate of the GammaPro at a given pressure is between the minimum and maximum limits, no further checks are needed, and you can continue to use your GammaPro. If not, further investigation is required.
Warranty: 3 years.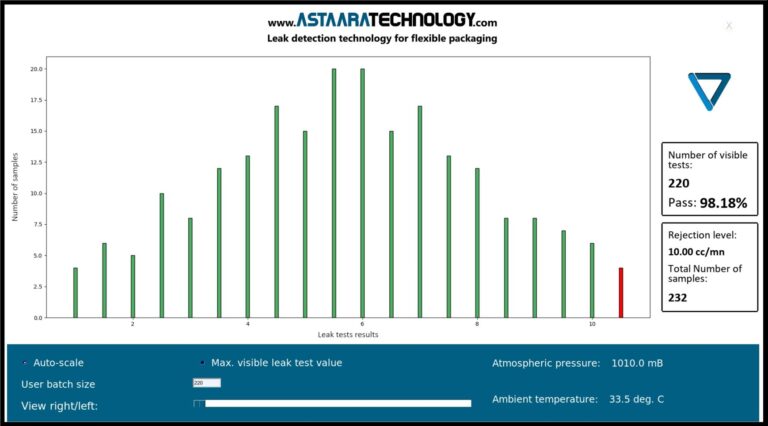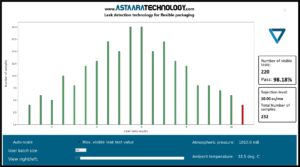 Histogram displayed on the optional monitor.